Brett Kavanaugh is expected to bring his pro-business bent to the Supreme Court; the DOJ is appealing the AT&T-Time Warner merger approval; Britain fines Facebook and the EU is expected to fine Google; and who really benefits from the GOP's tax cuts?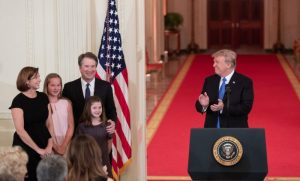 Chatter From the Ivory Tower
Columbia Business School professor Geert Bekaert was accused of making unwanted sexual advances and attempting to derail the career of former Columbia professor Enrichetta Ravina this week, as the trial concerning Ravina's $30 million lawsuit against Columbia and Bekaert opened in Manhattan. During her testimony, Ravina claimed that after she spurned Bekaert's advances and complained, both him and Columbia retaliated against her. Bekaert, she said, tarnished her reputation within the academic community and sabotaged her research, using his control of access to the data she relied on in her project to stall her work. Ultimately, she was denied tenure and is now teaching at Northwestern University.
Stigler Center Goings-On
Also, you can read ProMarket's interview with Tucker here.
Disclaimer: The ProMarket blog is dedicated to discussing how competition tends to be subverted by special interests. The posts represent the opinions of their writers, not necessarily those of the University of Chicago, the Booth School of Business, or its faculty. For more information, please visit ProMarket Blog Policy.