So far, Amazon has reacted to the coronavirus outbreak with restrictions designed to cement its market power at the expense of merchants and consumers.
Amazon is in crisis mode. On the one hand, Whole Foods and Amazon warehouse workers are organizing wildcat strikes across the country, demanding safer working conditions and better pay.
These protests, which have received extensive media coverage, led New York State AG Letitia James to consider taking legal action against Amazon for the firing of an Amazon warehouse worker who vocally protested against the way in which the company was treating him and his fellow employees.
On the other, Amazon is also experiencing fulfillment and supply chain disruptions, caused largely by a surge in consumer demand on its e-commerce platform.
At a glance, these two setbacks seem only tangentially related. But in fact, they are the two most glaring symptoms of Amazon's year-long efforts to monopolize the fulfillment market for goods that are sold on its platform. The warehouse workers protesting their poor and dangerous working conditions work at Fulfillment by Amazon (FBA), the company's logistics arm, and the shipping disruptions that both sellers and shoppers are experiencing, are also due to the fact that Amazon's FBA has reached capacity. 
But despite these disruptions, Amazon's problems are minor when compared to the turmoil that the retail industry is experiencing overall. The mass closure of US retailers in the last few weeks renders Amazon one of the only viable options to numerous consumers and merchants at this time.
In fact, Amazon's feverish recruiting, coupled with the massive layoffs across the retail industry, indicates that the company is poised to emerge from the rubble of this national crisis stronger than ever. 
Quarantine Makes Amazon Inevitable
In the last two weeks, it became apparent that Amazon is seizing the moment by leveraging its position as intermediary between quarantined consumers and distressed merchants to bolster its grip over the retail sector. Enforcement agencies and lawmakers should step up and scrutinize Amazon's activities at this critical moment. If they fail to do so, Amazon's power over our economy would dwarf the power it possessed prior to this pandemic.       
Last week, Amazon announced a series of restrictions on the type of items third-party sellers could send into its Fulfillment by Amazon (FBA) warehouses. In an earlier post, I suggested that Amazon should take some drastic and immediate steps to assist merchants that are experiencing difficulties due to these restrictions. 
However, in light of the actions Amazon took this week, it becomes apparent that the e-commerce colossus has chosen the opposite path, imposing a set of new restrictions that further harm merchants and consumers. Even more troubling is the fact that these restrictions appear to be designed, either intentionally or negligently, to further cement Amazon's market power at the expense of merchants and consumers.
It was first reported that in addition to the restrictions that Amazon was already setting on inbound shipments of 'non-essential' items into its warehouses, it began to prioritize which goods it will fulfill quickly via expedited shipping. 
In normal times, all items that are fulfilled by FBA are eligible for Prime—one-day or two-day shipping. But now, and perhaps due to its own capacity constraints, Amazon began to determine which items are "essential" and therefore eligible for Prime fulfillment. 
"To serve our customers in need while also helping to ensure the safety of our associates, we've changed our logistics, transportation, supply chain, purchasing, and third-party seller processes to prioritize stocking and delivering items that are a higher priority for our customers," Amazon said in an emailed statement. "This has resulted in some of our delivery promises being longer than usual."
In this email, Amazon failed to clarify what makes an item a "high-priority product." Nor did Amazon provide an actual guide that explains how it decides which items it deems essential.
Early reports indicated that Amazon did not apply these restrictions in a uniform matter. Some products in the same Amazon category were showing 30-day delivery, while others were still shipping within two days. This lack of clarity created further problems for merchants who scrambled to act and unfairly impacted certain products that happened to be assigned slower delivery dates.
Amazon-Brand Products Are "Essential" 
While Amazon's decision created chaos for its third-party sellers, it simultaneously revealed that Amazon's house brand products were all deemed by its algorithm as high priority and essential by the e-commerce giant. These items include Amazon's tablets, smart speakers, and even earbuds. This, of course, allows Amazon to increase sales of these items if comparable products by its competitors cannot be delivered within a reasonable amount of time. 
This decision to self-preference its own products might be accidental, but it corresponds with other ways in which Amazon self preferences its products.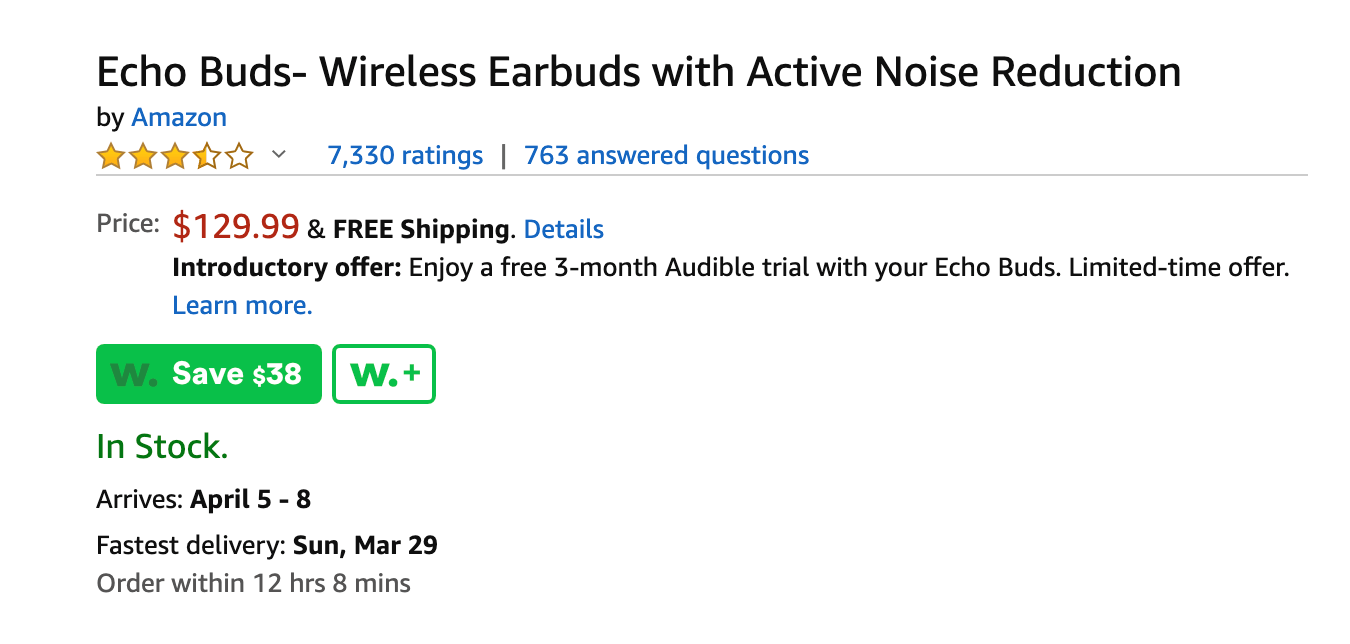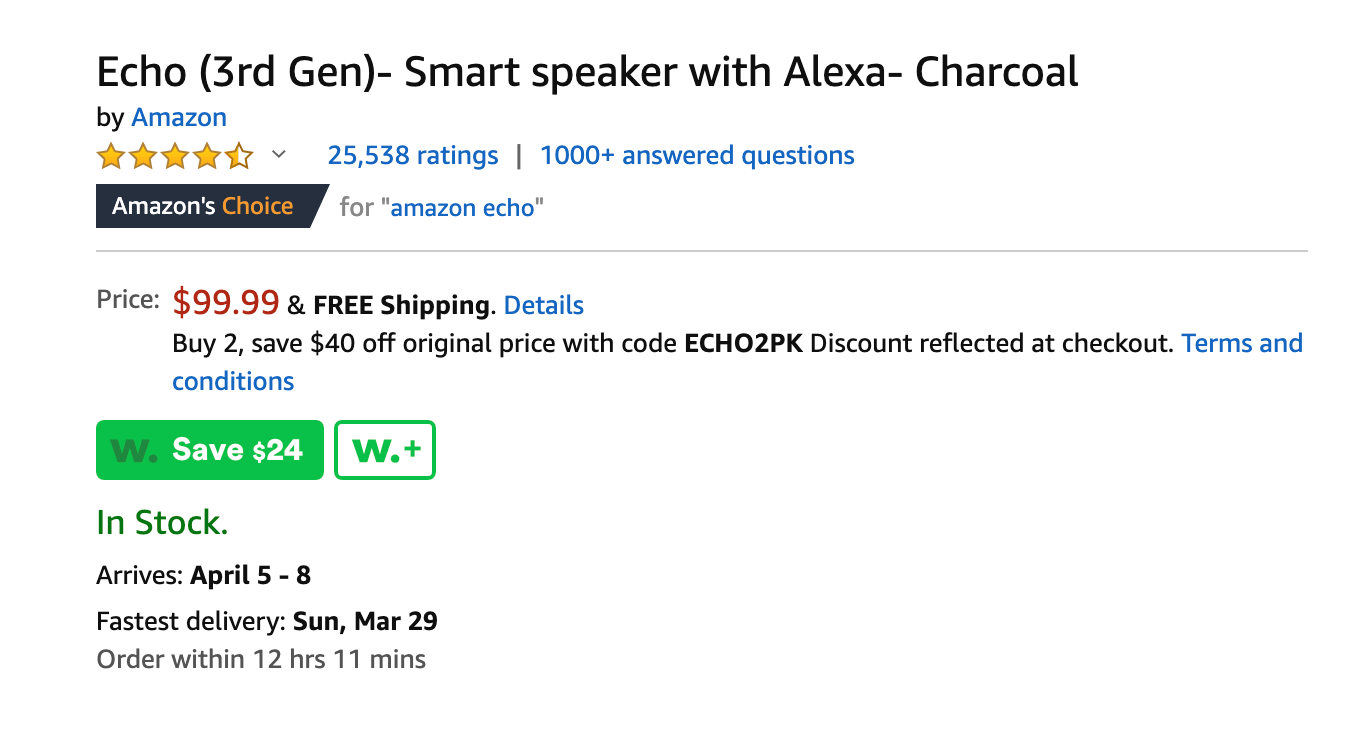 Late last year, Wired reported that all of Amazon's own products are "gated," meaning that third-party sellers are not allowed to sell them on the platform. This decision stood in stark contrast to Amazon's stated position regarding gating, which is that allowing multiple sellers (even if they are unauthorized) to sell products by the brand on the platform benefits its customers. 
In my last post, I suggested that Amazon should preemptively adjust its algorithm to preference seller fulfilled listing and products in order to promote the creation of a more robust fulfillment network at this time of crisis. But a recent Vox report indicates that Amazon went in the opposite direction, thereby preferencing its own market power and profits over the welfare of its consumers and sellers.   
According to the report, Amazon's algorithm was adjusted to "hide" listings that offered seller fulfillment and preferenced its own FBA shipping, even if the independent offer is both faster and cheaper. When asked to comment, Amazon offered a cryptic statement: 
"To address the need for high-priority items and ensure customers are receiving deliveries as quickly as possible, we've made a number of adjustments to how our store works," Amazon said in a statement. "In this case, some of these changes have resulted in an error which, in some cases, resulted in an unintended variation in how we select which offers to feature. We are working to correct it as quickly as possible." 
But Amazon did not explain what changes to its algorithm it was planning to make, and perhaps most importantly, whether it will finally preference listing and products that offer faster independent shipping. 
Everything in Life Is Relative 
Amazon has also adjusted the design of its platform as a result of this fulfillment crisis. It no longer presents the Prime badge next to offers on its website, even if these items are delivered in two days or less. Amazon perhaps made this adjustment after recognizing that it could no longer respect its Prime two-day shipping commitment. 
Amazon no longer promises Prime shipping to its members on numerous items. But this hasn't slowed down Amazon's efforts to expand its Prime member base. Amazon is seizing this moment to lure more shoppers to join Prime by downgrading the shopping experience of non-Prime members. Non-Prime members are presented with slower shopping than those presented to Prime members. After all, everything in life is relative.
But despite the fact that Amazon doesn't offer Prime shipping even to its Prime members, when these frustrated non-Prime shoppers are directed to Amazon's signup page, they are still greeted with Amazon's famous and no longer relevant promise of "Free one-day delivery," which Amazon still states is "available coast-to-coast on more than 10 million items."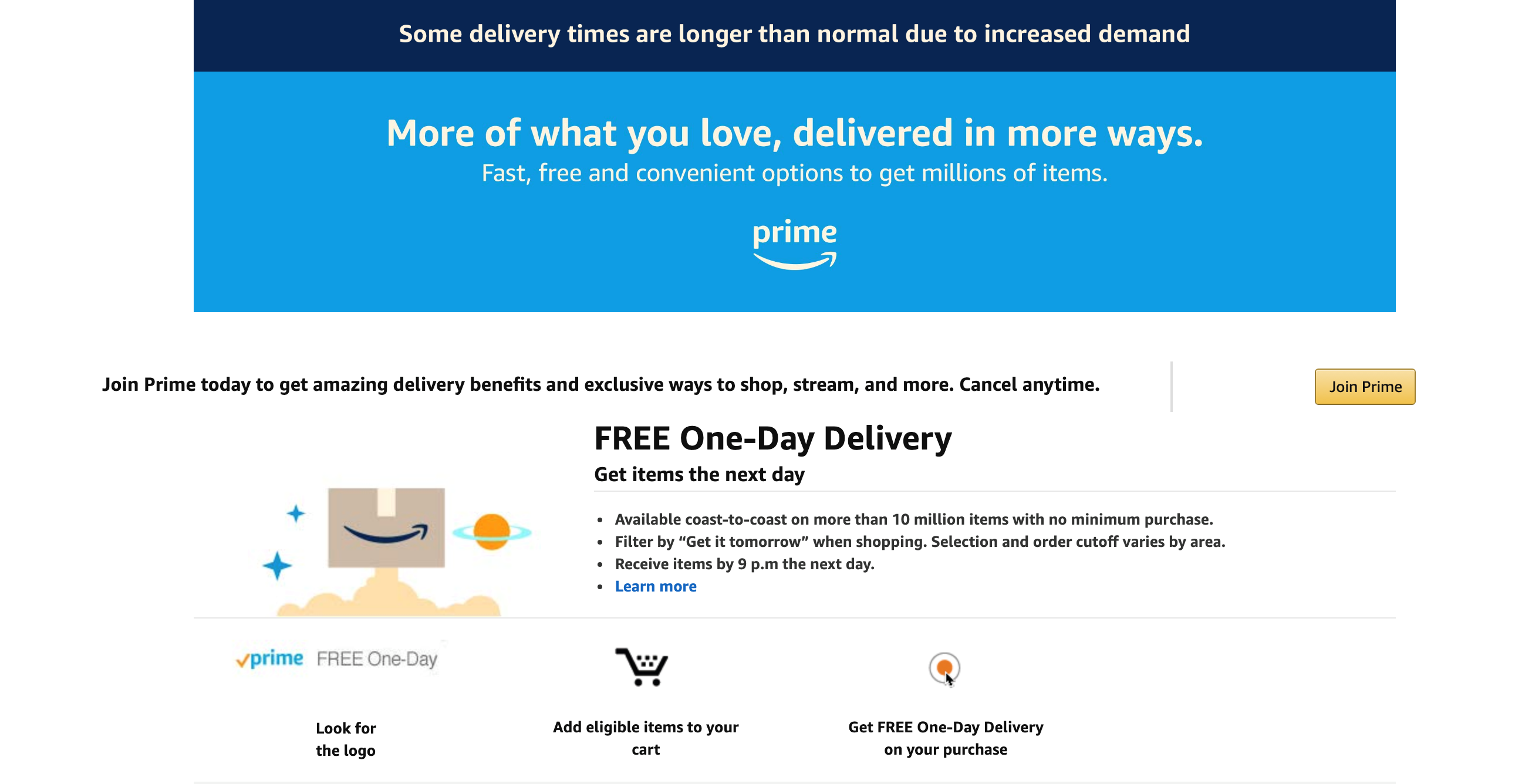 Lastly, new data reveals that Amazon raised prices during the pandemic, alongside sellers accused of price gouging on products like hand sanitizers, protective masks, and toilet paper. Florida Attorney General Ashley Moody already announced that it was looking into the conduct of Amazon sellers. AG's across the country should also look into Amazon's own conduct as a seller during this pandemic.
In making future enforcement decisions, the Commission will take into account companies' good faith efforts to provide goods and services to consumers during the pandemic. /2

— Noah J. Phillips (@FTCPhillips) March 26, 2020
Until now the Federal Trade Commission did not indicate that it is closely monitoring the situation. In fact, the opposite is happening. In a tweet last week FTC Commissioner Noah Phillips stated that "In making future enforcement decisions, the Commission will take into account companies' good faith efforts to provide goods and services to consumers during the pandemic."
Shaoul Sussman is a Legal Fellow at the Institute for Local Self-Reliance. His research focuses on the intersection of antitrust law and big tech. Shaoul has published an academic paper and a number of articles about Amazon's anticompetitive practices and the company's negative influence on firms that rely on its e-commerce platform. Shaoul is also part of the Litigation Group at Pearl Cohen LLP. Shaoul's practice focuses primarily on intellectual property litigation, commercial litigation, IP licensing, antitrust, and due diligence work. Shaoul received his J.D. from Fordham University School of Law and his B.A. in Political Philosophy from Bard College Berlin.
ProMarket is dedicated to discussing how competition tends to be subverted by special interests. The posts represent the opinions of their writers, not necessarily those of the University of Chicago, the Booth School of Business, or its faculty. For more information, please visit ProMarket Blog Policy.