New report reveals America's "concentration crisis"; antitrust enforcers and regulators in Europe are going after Amazon, Facebook and Google; Facebook's ongoing Soros debacle; and why is US life expectancy in decline?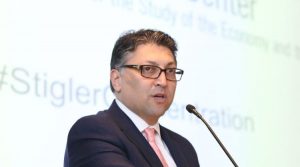 The Monopolization of America
Tepper and his co-author Denise Hearn contributed a piece on Big Tech's "kill zone" for ProMarket this week. Don't miss it.
European Regulators Zero in on Tech Platforms
Brexit, Opioids and Predatory Lenders
From the Law and Political Economy blog: Frank Pasquale and Sandeep Vaheesan on the uneasy case against occupational licensing.
Stigler Center Goings-On
In the first of a two-part look at global inequality, Capitalisn't hosts Kate Waldock and Luigi Zingales talk about the upside of globalization: a decrease in income inequality between countries over the last few decades. How much of this can be attributed to China, and what was the secret to their success?
Disclaimer: The ProMarket blog is dedicated to discussing how competition tends to be subverted by special interests. The posts represent the opinions of their writers, not necessarily those of the University of Chicago, the Booth School of Business, or its faculty. For more information, please visit ProMarket Blog Policy.