Apple hits the coveted $1 trillion mark—thanks to share buybacks; Senator Mark Warner's proposals to regulate social media platforms make waves; Google is reportedly planning to launch a censored version of its search engine in China; and what's behind the public battle between President Trump and the Koch brothers for control of the GOP?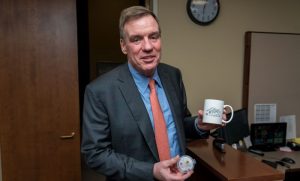 For more on Facebook, don't miss our own special interview with Siva Vaidhyanathan, who explains why Facebook is simply "too big too manage"
Stigler Center Goings-On
In the second part of their special 3-part series on antitrust law, Capitalisn't hosts Kate Waldock and Luigi Zingales talk with Lina Khan of the Open Markets Institute, author of the article "Amazon's Antitrust Paradox" and a member of the New Brandeis Movement, which believes that antitrust enforcement should be more broadly applied and not just rely on consumer welfare.
Disclaimer: The ProMarket blog is dedicated to discussing how competition tends to be subverted by special interests. The posts represent the opinions of their writers, not necessarily those of the University of Chicago, the Booth School of Business, or its faculty. For more information, please visit ProMarket Blog Policy.