This week in political economy.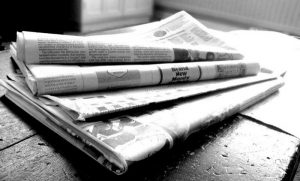 The world's political and business elites gathered in Davos this week for the annual meeting of the World Economic Forum. One of the most prominent themes of the gathering this year was the growing power of internet platforms. Facing mounting criticism over their influence over politics and societies, some of the typically-libertarian tech executives present in Davos presented a much more positive point of view on regulation, reported the Wall Street Journal. After a year of scandals and growing concerns, reports Wired, tech firms are finally acknowledging that their grace period has run out. Among the people criticizing tech giants was

George Soros

, who went after the "monolithic power" of Google and Facebook, arguing that as they "have grown into ever more powerful monopolies, they have become obstacles to innovation, and they have caused a variety of problems of which we are only now beginning to become aware."
Apple, Amazon, Facebook and Google spent nearly $50 million

—a record

—t

o influence the US government in 2017, report

ReCode

and

Bloomberg

.

On a related note, Bloomberg's

Joshua Brustein

writes about a Supreme Court case over credit card fees—Ohio v. American Express—that could benefit Google, Facebook and Amazon and has been described by experts as "one of the most important antitrust cases in years." In related news,

Rupert Murdoch

has decided to capitalize on the current anti-tech backlash, claiming that Facebook should solve its fake news problem by paying media companies for content.
President Trump has

nominated

four commissioners for the Federal Trade Commission, which has been lacking several members or a permanent leader since his inauguration.
The Consumer Financial Protection Bureau (CFPB) has quietly dropped an investigation into a payday lender that previously contributed to the campaign of the current CFPB head Mick Mulvaney, according to reports from International Business Times and

ProPublica

.
The World Bank's chief economist, Paul Romer,

resigned

on Wednesday following the scandal that erupted when he said the Bank's competitiveness rankings may have been skewed due to the political leanings of the Bank's staff. Romer has already apologized to the outraged nation of Chile for his remarks, but his resignation, according to The Economist, is unlikely to be the end of the current scandal.
Also, check out our coverage of the other World Bank scandal: A new study documents how corporate collusion hurts the bank's credibility—and harms sustainable development.
Chatter from the Ivory Tower
Why are wages in America lagging? Maybe due to too many mergers in the heartland.

Noam Scheiber's and Ben Casselman's

coverage of a recent paper by Marshall Steinbaum, Ioana Marinescu and José Azar.
Also, check out our coverage of the same paper: "New study shows just how bad the US labor market's competition problem really is."
Stigler Center Goings-on
The decision of Luigi Zingales, director of the Stigler Center (which publishes this blog), to invite Steve Bannon for a debate on globalization and immigration has reignited the discussion on freedom of speech on campus. On this topic see the Chicago Tribune editorial and a piece on the Boston Globe. We recommend also a podcast co-hosted by Geoffrey Stone, the Edward H. Levi Distinguished Service Professor at the University of Chicago Law School.
Disclaimer: The ProMarket blog is dedicated to discussing how competition tends to be subverted by special interests. The posts represent the opinions of their writers, not those of the University of Chicago, the Booth School of Business, or its faculty. For more information, please visit ProMarket Blog Policy.