A statement from University of Chicago Booth School of Business Professor and Stigler Center Director Luigi Zingales and ProMarket editor Samantha Eyler-Driscoll.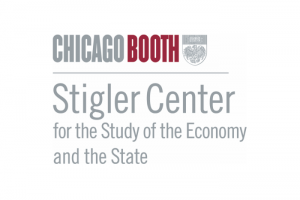 The senior editor of the blog, Samantha Eyler-Driscoll, dissented with the decision of Luigi Zingales, the academic director of the Stigler Center, to invite Steve Bannon on campus. Samantha asked to be recused to avoid having any hand in promoting or defending this event. Luigi recognized her stated conscientious objection and instantly agreed to grant the request. Samantha voluntarily decided to step down from the board of the ProMarket blog and to assume the position of Managing Editor instead of Senior Editor. Luigi accepted this resignation. Samantha will remain working at the ProMarket blog with otherwise unchanged responsibilities (and salary), she will just recuse herself when Bannon related events are concerned. We look forward to a continuous and productive collaboration. Both Samantha and Luigi reiterate their belief that it is important to protect the right of free expression of university staff.
Samantha Eyler-Driscoll and Luigi Zingales
Disclaimer: The ProMarket blog is dedicated to discussing how competition tends to be subverted by special interests. The posts represent the opinions of their writers, not those of the University of Chicago, the Booth School of Business, or its faculty. For more information, please visit ProMarket Blog Policy.