The stories that most interested us this week.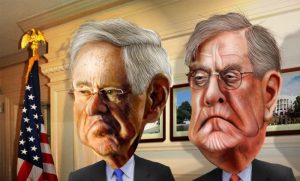 The bribery trial of US Senator Bob Menendez (D-NJ) ended in a mistrial after the jury was not able to reach a verdict. Fordham University's Zephyr Teachout

writes

that part of the problem is the changing definition of "legal" when it comes to public corruption. The Supreme Court, she writes, has "stripped anti-corruption legislation of its power" in campaign finance laws and anti-bribery laws, leaving the public with few ways to combat the growing threat of corruption. (Retired US Court of Appeals Judge

Richard Posner

also harshly criticized the Supreme Court's rulings on campaign finance laws as a catalyst for corruption during the Stigler Center's antitrust conference earlier this year).
The Koch brothers are looking to buy a media outlet: The New York Times reports that billionaire brothers Charles G. and David H. Koch are backing a deal in which publishing company Meredith would buy Time Inc. Talks are ongoing, but according to the Times, the Kochs have tentatively agreed to provide Meredith's offer with more than $500 million.
Rupert Murdoch is seriously considering a sale of 21st Century Fox, according to

CNN

, after both Comcast and Verizon have approached 21st Century Fox about acquiring most of the company. Last week, it was

reported

that Murdoch telephoned AT&T CEO Randall Stephenson twice in the last six months to talk about potentially buying CNN. Meanwhile, the Federal Communications Commission

just voted

to loosen media ownership rules, paving the way for more media consolidation. (Back in May, we wrote about a major beneficiary of relaxing media ownership rules: Sinclair).
AT&T's bid for Time Warner has hit a bit of a rough patch in the last two weeks, as the Department of Justice is reportedly pressuring the company to sell CNN and other holdings in order to get the merger green lit. In response, Bloomberg's Todd Shields and Ben Brody report, AT&T is now

flexing

its Washington lobbying muscle. In Variety,

Ted Johnson

writes about the Trump administration's inconsistency regarding media concentration.
The public battle between AT&T and the DOJ has put Trump's newly-appointed antitrust chief,

Makan Delrahim

, at the center of the intensifying debate. CNN's Brian Stelter and Jackie Wattles provide a good summary of Delrahim's record and views.
On Wednesday, the Senate confirmed Trump's nominee to head the Mine Health and Safety Administration (MSHA). Trump's nominee, David Zatezalof, is a former coal executive who will now head the government's top regulator of mine safety. New York has the full story.
Bipartisanship is a rare thing in Washington, especially these days. Yet a group of Republican and Democratic senators managed to reach a bipartisan agreement to relax a number of banking regulations enacted after the 2008 financial crisis. Politico has the

full story

.
Missouri's Attorney General Josh Hawley has

launched

an investigation of Google over allegations that it violated the state's consumer-protection and antitrust laws.

Bloomberg

reports that venture capitalist and Trump adviser Peter Thiel, an early investor in Facebook and a member of its board, gave Hawley campaign contributions totaling $300,000. Over at The Guardian, venture capitalist Roger McNamee, also an early Facebook investor,

writes

that

Facebook's and Google's pursuit of massive profits is threatening not just democracy—but also public health.
Stigler Center Goings-on
Have you signed up for this month's Stigler Center talk by Tyler Cowen? If not, do it here.
Disclaimer: The ProMarket blog is dedicated to discussing how competition tends to be subverted by special interests. The posts represent the opinions of their writers, not those of the University of Chicago, the Booth School of Business, or its faculty. For more information, please visit ProMarket Blog Policy.