Over the past couple of months, ProMarket has hosted a lively debate on whether Milton Friedman was right or wrong when he wrote that a corporation's only social responsibility was to increase its profits. Today, we are releasing an ebook containing all 28 pieces from our Friedman 50 Years Later series.
---
To mark the 50-year anniversary of Milton Friedman's influential New York Times piece, we are publishing an e-book collection of articles on the shareholder-stakeholder debate. The 28-piece series first appeared on ProMarket. You can view it here: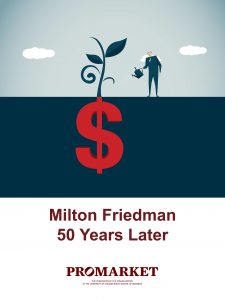 Download the pdf version here. A Nook and Apple Books compatible version is available here.
Here is what some of our readers had to say about the series:
"Milton Friedman's essay has stood the test of time better than the products that were advertised next to it, such as the FURN-a-KIT Expansion Wall and the Great Ban-Lon Body Shirt. These responses, whether admiring of Friedman or otherwise, add up to a modern education on the purpose of the corporation," wrote Peter Coy, economics editor for Bloomberg Businessweek.
"Milton Friedman was one of the foremost thinkers who challenged the post-war Keynesian consensus. He was immensely successful in arguing the pro-market case, and questioning the ability of government to improve on market outcomes. Today, we need to reopen these questions, using new economic thinking and new evidence; is the market bringing the unalloyed benefits that Friedman thought it would? This book is an important contribution to that reevaluation," said Angus Deaton, Nobel Prize winner and Senior Scholar at the Princeton School of Public and International Affairs.
"Milton Friedman's article on the goals of corporations was among the most influential pieces ever written in economics. The debate in this e-book represents a timely and fitting re-assessment of how well his view has stood up to the tests of time and the real world," wrote Martin Wolf, associate editor and chief economics commentator at the Financial Times, who also contributed to the debate. Wolf's own piece There Is a Direct Line from Milton Friedman to Donald Trump's Assault on Democracy, published as part of the Friedman 50 Years Later series, can be found here.
And on a recent episode of the Capitalisn't podcast, hosts Luigi Zingales and Bethany McLean revisited Friedman's legacy with New Yorker staff writer and author of Transaction Man Nicholas Lemann. Together, they explored why Milton Friedman's idea became so popular after it was published in 1970.