The annual Chicago Booth/Kellogg School Financial Trust Index survey shows that 73 percent of Americans disapprove of Facebook's policy not to fact-check political ads. More than 50 percent of respondents do not trust Facebook to choose the news in their feeds, but only 37 percent think Facebook should be broken up into smaller companies. 
According to polarizing billionaire and philanthropist George Soros, "Facebook helped Trump to get elected and I am afraid that it will do the same in 2020." In a recent New York Times op-ed, Soros argued that the interests of Facebook CEO Mark Zuckerberg and US President Donald Trump are aligned: The latter wants to win the election, and the former is worried that a different president could challenge Facebook's dominant position and eventually break up the company, which currently also owns Instagram and WhatsApp.
According to the annual Financial Trust Index survey, administered by the University of Chicago Booth School of Business and Northwestern University's Kellogg School of Management, the attitude of American voters toward Facebook and Big Tech is more complex and not polarized on the Democrat/Republican cleavage.
Survey participants answered a very specific question on Facebook: "Do you think Facebook should be broken into smaller companies?" More than a third of respondents, 37 percent, agreed. However, a large majority (63 percent) was against. If we disaggregate for party affiliation, we see that Democratic voters are almost as skeptical as Republican voters regarding the possibility of a break-up, but the share of people who "strongly" supported the proposal is higher among Republicans.
What is more surprising is the response to a question about political advertisements on Facebook. A few weeks ago, Facebook announced that its policy on political ads will not change: It will allow politicians to place ads that contain false or misleading information, without any previous quality check and with no limits on micro-targeting swing voters with tailor-made messages.
According to many analyses, this policy is likely to favor Donald Trump, the candidate who best utilized Facebook as part of his campaign strategy in the 2016 presidential election.
However, many Republican voters dislike Facebook's current approach. The survey question was: "As you may know, Facebook recently announced that it will allow all political ads without checking their accuracy. Do you (support) or (oppose) Facebook's decision?" A significant share of Republican voters (15.1 percent) "strongly supports" this decision, but a much higher share (42.93 percent) "strongly opposes."
Independent and Democratic voters are even more hostile: 46.9 percent and 53.6 percent "strongly oppose." Significantly more women (76 percent) reported opposing this decision than men (64 percent).
Facebook also has a reputational problem as a news provider. The social network has always defended its "platform" nature in order not to be liable for the content it publishes. Then, in October 2019, it started to test Facebook News:
"… a dedicated place for news on Facebook, to a subset of people in the US. News gives people more control over the stories they see, and the ability to explore a wider range of their news interests, directly within the Facebook app."
The Financial Trust Index survey asked participants how much they trust Facebook to select the news that appears in their newsfeed. Only a minuscule 0.64 percent said they trust Facebook "completely," and 50.1 percent of respondents "would not trust them at all." What if Facebook were Chinese-controlled, like its recent rival TikTok? The share of respondents who would distrust Facebook then rises 15 points, to 64 percent. Republicans voters were even more hostile than Democrats.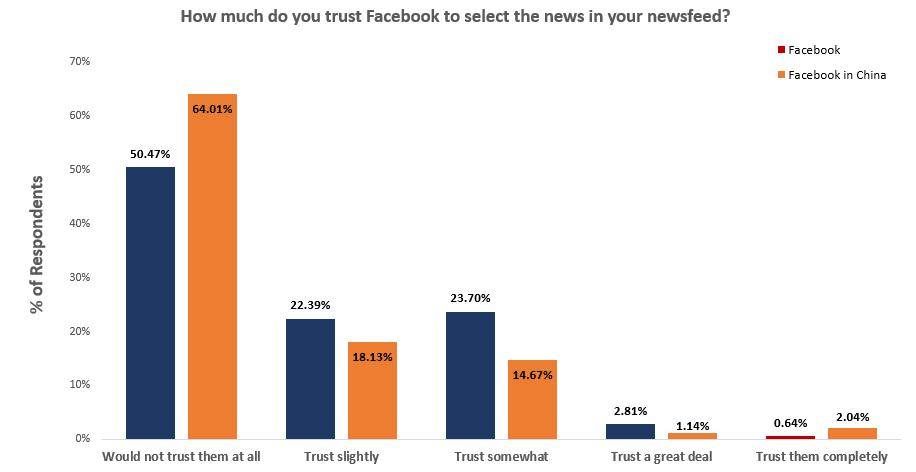 How do we reconcile this hostility against Facebook with increasing trust in large corporations? According to the Financial Trust Index survey, for the first time since the index started in 2008, trust in large corporations rose above 20 percent, and the sharpest increase in recent years was among Democrat voters.
One possible explanation is that Americans are not ideologically opposed to large corporations, but they do not trust how large corporations like Facebook use the power that comes with bigness. This awareness has not produced majority support for break-up proposals (not yet, at least), but the widespread distrust of Facebook's control of news and political ads could be the signal that hostility against Big Tech is on the rise on both sides of the political spectrum.
About the Index:
The Financial Trust Index captures the level of trust that Americans have in institutions. The study was conducted via telephone by SSRS, an independent research company. Interviews were conducted during the period of December 17–26, 2019, among financial decision-makers. A total of 1,019 interviews were conducted, with a margin of error for total respondents of +/-3.57 percent at the 95 percent confidence level. 
The Financial Trust Index was created in 2008 as a means to study the changes in trust in the financial industry and the impact of those changes on investors' decisions. The index monitors the annual level of Americans' trust in institutions and regularly evaluates how current events, policy, and government intervention may affect it. The initiative is sponsored jointly by the University of Chicago Booth School of Business and the Kellogg School of Management at Northwestern University and is administered by Social Science Research Solutions.
 The Survey Lead Authors are Paola Sapienza and Luigi Zingales. Paola Sapienza holds the Donald C. Clark/HSBC Chair in Consumer Finance at the Kellogg School of Management at Northwestern University. Luigi Zingales is the Robert R. McCormack Distinguished Service Professor of Entrepreneurship and Finance at the University of Chicago Booth School of Business and one of the editors of this website.
The ProMarket blog is dedicated to discussing how competition tends to be subverted by special interests. The posts represent the opinions of their writers, not necessarily those of the University of Chicago, the Booth School of Business, or its faculty. For more information, please visit ProMarket Blog Policy.