Corporate executives warm up to Brazil's far-right presidential candidate Jair Bolsonaro; the US is developing into a "plutocracy," says former Fed chairman; Tim Cook blasts Silicon Valley's "data-industrial complex"; and what is McKinsey's relationship with Saudi Arabia?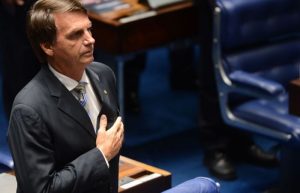 Also, don't miss this week's episode of Capitalisn't, in which Glenn Greenwald (who lives in Brazil) tells Kate Waldock and Luigi Zingales how rampant corruption, violent crime and a struggling economy have given rise to Bolsonaro and Brazil's radical right.
Stigler Center Goings-On
"Ride-sharing is often touted as improving traffic safety by removing potential drunk drivers from the road. But new research suggests that these services are actually increasing accident rates, and costing a rough estimate of $10 billion in economic losses from deaths each year," writes Forbes' Liane Yvkoff in her coverage of the Stigler Center's working paper on ride-sharing and traffic fatalities. The MIT Technology Review covers the study as well. And if you missed Luigi Zingales' ProMarket piece about the same paper, read it here.
Disclaimer: The ProMarket blog is dedicated to discussing how competition tends to be subverted by special interests. The posts represent the opinions of their writers, not necessarily those of the University of Chicago, the Booth School of Business, or its faculty. For more information, please visit ProMarket Blog Policy.