This week in political economy.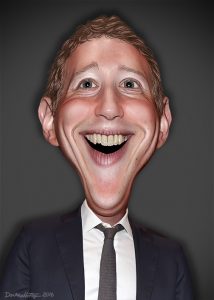 Facebook CEO Mark Zuckerberg answered hundreds of questions about the company's business model and mishandling of data and privacy as he testified before the US House and Senate this week. Now that the first round of Congressional questioning is done, the European Parliament has

invited him

to appear in Brussels as well. The New York Times'

Zach Wichter

recaps both Congressional hearings, while the Washington Post fact-checks Zuckerberg's statements on Facebook's data collection. In the Guardian,

Zephyr Teachout

argues that the much-softer Senate hearing was "an utter sham," whereas in The Intercept David Dayen covers

the Senate hearing

and the more substantial House hearing and concludes: "The reinvigoration of Congress on matters of corporate power won't happen overnight and continues to face monumental challenges. But things crawled a tiny bit forward on Wednesday."
From The Verge: Here's how much Facebook donated to every lawmaker who questioned Zuckerberg. In the past few years, reports the

Center for Public Integrity

, Facebook "built a massive lobbying entourage of Washington power brokers," giving the company such lobbying power that it may be enough "to blunt any talk of significant consumer privacy regulations meant to reign in Facebook and other tech giants."
Meanwhile, a Wall Street Journal

report

quotes marketing executives at Facebook who don't expect the recent outrage over privacy to impact the company's revenues. Facebook users, the executives said, largely haven't changed their privacy settings in the past four weeks, despite recent scandals. In New York,

Noah Kulwin

speaks to four ex-Facebook employees and former investor Roger McNamee (who we also interviewed

here

last month).
As Congress debates how to regulate Facebook, the New York Times'

Kevin Roose

writes that legislators shouldn't let their own technological illiteracy force them into timidity. "The biggest obstacle to regulating Facebook is not Congress's lack of computer literacy, which gave Mr. Zuckerberg the upper hand this week. It's a lack of political will," he writes. In the Daily Beast,

Sarah Miller and Matt Stoller

argue that "Facebook can't be fixed, it needs to be broken up," and in Motherboard,

Jason Koebler

makes the case that the real problem with Facebook is its market power. In The New Republic, David Dayen suggests a novel solution to the dangers of the surveillance economy: banning on targeted advertising.
The Washington Post's

Henry Farrell and Abraham Newman

argue that regardless of what Congress ultimately decides to do about Facebook, the "far more immediate threat" for the company comes from the European Union, particularly the EU's General Data Protection Regulation (GDPR), which goes into effect on May 25.
Reuters

reports

that Google is "poised to emerge unscathed from the EU antitrust crackdown."

The most important of the three antitrust cases that the EU has filed against Google, the one that concerns Google allegedly using its dominance over Android-powered smartphones, is expected to conclude with a multibillion-dollar fine and "an end to clauses in licensing agreements that stop smartphone vendors from promoting alternatives to apps such as Google Search and Maps," according to the report.
European antitrust investigators

raided

the offices of Rupert Murdoch's 21st Century Fox this week, as part of an investigation into whether the company abused its dominant position in the broadcasting of sports events.
From the New York Times: President Trump proposes rejoining the Trans-Pacific Partnership (TPP), a deal that he pulled out of days after being inaugurated.
Environmental Protection Agency administrator Scott Pruitt is still mired in scandal following a

scathing letter

signed by two senators and three House lawmakers outlined

new revelations

about his spending habits and conduct, courtesy of whistleblower

Kevin Chmielewski

, who served as deputy chief of staff at the EPA. In Huff Post, Andrew Perez reports that Pruitt "has met with more than three dozen organizations that donated to his past campaigns and political committees in the last year."
From

Noam Cohen

in the Washington Post: YouTube is reportedly enlisting Wikipedia in its effort to curb fake news and conspiracy videos. "That Google, a company with a market capitalization of three-quarters of a trillion dollars, is enlisting a volunteer-created nonprofit organization as a bulwark for truth on its wildly popular video-sharing service is yet more evidence of how the Internet has become a hostage to the priorities of profit-obsessed, hyper-individualistic Silicon Valley companies," he writes.
Chatter from the Ivory Tower
The contagion of UChicago economists' prizewinning work in behavioral econ is spreading around the European Union. A forthcoming paper by Loibl et al. in the Journal of Consumer Affairs examines how well policy interventions based on Thaler's concept of "nudges" sit with Europeans. The Oxford Business Law Blog gives an overview of their findings.
In the latest episode of the Capitalisn't podcast, Luigi Zingales and Kate Waldock talk to former Commodity Futures Trading Commissioner Sharon Bowen, who tells them how she helped bring transparency to the market after the 2008 financial crisis and visited a few grain silos along the way.
On April 19 and 20, 2018, the Stigler Center will dedicate its annual Antitrust and Competition conference to the topic of "Digital Platforms and Concentration." The invitation-only conference will bring together economists, law scholars, intellectuals, venture capitalists, and business people for two days of discussion, with keynote speakers Makan Delrahim, assistant attorney general of the Department of Justice's Antitrust Division, Alvin Roth, the 2012 Nobel laureate in economics, and Jean Tirole, the 2014 Nobel laureate in economics. More details here.
Disclaimer: The ProMarket blog is dedicated to discussing how competition tends to be subverted by special interests. The posts represent the opinions of their writers, not necessarily those of the University of Chicago, the Booth School of Business, or its faculty. For more information, please visit ProMarket Blog Policy.