In an interview with ProMarket, Swedish political scientist Bo Rothstein explains why he decided to resign from the Blavatnik School of Government after learning that Leonard Blavatnik, the school's main financial backer, had made a substantial contribution to President Trump's inauguration.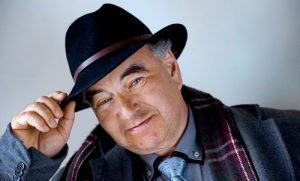 Swedish political scientist Bo Rothstein made international headlines this week, when he publicly resigned from his position as a professor at the Blavatnik School of Government in Oxford, in protest over the support of Ukrainian-born billionaire Leonard Blavatnik—the school's main financial backer—for Donald Trump.
Rothstein's name should be familiar to regular readers of ProMarket: we ran an extensive interview with him in 2016, and he is also an occasional contributor to this blog. Rothstein is one of the most influential political scientists in the world today, having spent decades studying corruption and quality of government. Prior to joining Oxford 18 months ago, he held the August Röhss Chair in Political Science at the University of Gothenburg and co-founded the university's Quality of Government Institute, which deals with "the theoretical and empirical problem of how political institutions of high quality can be created and maintained." In his seminal book The Quality of Government (University of Chicago Press, 2011), Rothstein argues that strong institutions and regulations are a requisite for the function of competitive market economies.
In his letter of resignation, Rothstein wrote that he decided to resign after learning that Blavatnik had made a substantial contribution to President Trump's inauguration. "President Trump stands for a system of governing that is completely contrary to what I have come to define as 'quality of government,'" he wrote, calling Blavatnik's decision to support Trump "both incomprehensible and irresponsible." Blavatnik's support of Trump, he added, "makes it impossible for me to continue at the Blavatnik School of Government. Given the results from my research, my activities for increasing the ethical standards in higher education, my public statements about the pressing need for integrity and impartiality for holders of public office, as well as the content of my teaching, I cannot give legitimacy and credibility to a person who is supporting Donald Trump."
In order to learn more about the reasons and background behind his resignation, we interviewed Rothstein by phone this week. The following is a slightly-edited transcript of our conversation:
Q: You've been at the Blavatnik School for a year and a half. When did you decide to resign?
I got the information that Mr. Blavatnik has started to support Donald Trump by making a big donation to his inauguration. I got that information, I think, in early August. I made my decision two weeks later, around mid-August.
Q: Universities often accept donations from large corporations and wealthy individuals, many of which donate to politicians on both sides of the aisle. Is it possible that you've set the bar too high?
No, I don't think so. This has nothing to do with traditional Republican policies, like lowering taxes for the rich or dismantling the healthcare system. This is much more fundamental: Essentially, the Trump regime does not respect the rule of law; they threatened to put their political opponents in prison; they did not take a clear stand against political violence; they have been supporting racist and antisemitic demonstrators; they have not respected the principles of meritocracy, creating a very nepotistic type of government. The Trump regime is basically trampling on the very fundamentals of what I think of as the democratic system. If it had been just Mr. Blavatnik giving money to traditional Republican politicians, I wouldn't have cared.
Q: Why take such hard measures, if you have total academic freedom?
[By staying on] I would be giving legitimacy and credibility to a person who is supporting policies that are 180 degrees against what I'm teaching about, and there is no way I can defend this in front of my students—it's impossible.
When I was offered the position at Oxford, I knew that there had been criticisms against Mr. Blavatnik and his donation. There was a formal protest, so I read everything that I could find about him, and everything that the protesters had put forward, but I couldn't find anything substantial. They were just basing their critique on rumors, hearsay, speculations. I am pretty sure you cannot make a fortune like that without stepping on some people's toes, and the most damning thing they could put forward was that Mr. Blavatnik and his associates had been hard on British Petroleum. Well, my heart doesn't bleed for British Petroleum, so I decided to disregard the criticism and take the position.
Now it is very different: with his donation, Mr. Blavatnik is supporting a regime that I think is dangerous for the democratic system and for improving the quality of government. From a formalistic perspective, you could say that donating to Mr. Trump's inauguration is not [meant] to support or honor his regime, but for most people I have talked to, this distinction is too fine-grained. Donating to this inauguration, according to the New York Times and other trustworthy newspapers,1 should be seen as a way for large corporations who did not donate to Trump's election campaign to "kiss and make up" and "reset ties" with the Trump administration. In any case, I am not going to continue to give credibility and legitimacy to this. There must be a line.
I am not accusing Mr. Blavatnik of anything illegal. I am just saying he is supporting a regime that is standing for policies that are 180 degrees against what I think the school has declared as its mission, which is a "world better governed." The goal of the school, and I quote, is to "improve the quality of government and public policy-making worldwide, so that citizens can enjoy more secure and more fulfilled lives." Trump stands for policies that are completely contrary to this. There is no way I can continue to support this and look at myself in the mirror. Absolutely not.
Q: Does that mean that you won't take a position in any university whose corporate donors also donated to Trump?
Yes. But you also have to realize: if the medical faculty had gotten money from such a donor it wouldn't affect me, because I am not doing medical research. But the school I am working in is named the Blavatnik School of Government. The chair I have is named the Blavatnik Professorship in Government and Public Policy.
Q: Given that Blavatnik is an ally of Vladimir Putin, you could have said the same thing two years ago: that you cannot be associated with someone who is closely associated with Putin.
This is the problem: there is no hard evidence showing that Mr. Blavatnik has directly collaborated with or given money to Putin. Just knowing Putin is not enough, it has to be more substantial, and I couldn't find anything more substantial—just rumors, hearsay, and speculations. If I would have found out that Blavatnik donated large sums of money to Putin, it would have been the same, but there is no evidence of this. I am a researcher—I am not supposed to make decisions based on rumors. I am supposed to base decisions on the facts that I can find, and I couldn't find such facts. That Blavatnik donated money to the Trump inauguration, there is evidence of this. They have not denied this, on the contrary. Before, Blavatnik donated money to many candidates who were against Trump—so he has changed, not I.
Q: Other than the Trump donation, did you like working for the Blavatnik school?
Yes, I did, very much.
Q: So the only reason for your resignation is the donation to Trump?
Yes. In early June I made it clear to my former department in Sweden that I would not come back, but continue in Oxford.
Q: And you're going back to your previous position in the University of Gothenburg?
Yes, that's the plan. I have to give three months' notice, so I will be back in Oxford for the fall. My last day working in Oxford will be sometime in December.
Q: You told The Guardian that you are not a hero, because you have another job you can go back to. How would you deal with this dilemma, had you not had another tenured job to fall back on?
You know, I am turning 64 next year. I could have easily taken early retirement.
Disclaimer: The ProMarket blog is dedicated to discussing how competition tends to be subverted by special interests. The posts represent the opinions of their writers, not those of the University of Chicago, the Booth School of Business, or its faculty. For more information, please visit ProMarket Blog Policy.
See for example: New York Times

here

and

here

, Boston Globe.[↩]