The wilting of civil and political freedoms in Hong Kong took a dramatic downturn since July after Beijing imposed its national security law. While the law has formally ended the "one country, two systems" model under which Hong Kong was returned to China, Hong Kong's freedoms have been under attack for years.
---
Editor's note: This article is part of our ongoing debate on the impact of China's new national security law on the freedom of expression in Hong Kong and everywhere in the world. Read previous articles in this series here.
Hong Kong, where freedoms once blossomed, has withered. Hong Kongers used to greet the Tiananmen commemoration on June 4, the handover anniversary on July 1, and the National Day on October 1 with massive demonstrations. In 2019, nearly two million of Hong Kong's 7.4 million residents repeatedly braced the scorching heat and torrential rain to protest a bill that would extradite people accused of crimes from the city to mainland China. In 2020, however, political rallies planned for June 4, July 1, and October 1 were banned, and over 10,000 people have been arrested since June of last year.
The wilting of civil and political freedoms took a dramatic downturn when Beijing imposed a national security law on June 30. This law seeks to "prevent, stop, and punish" "secession," "subversion," "terrorism," and "collusion with foreign forces." The crimes are vaguely defined to cover not just violent but also nonviolent forms of dissent, not just "acts" but also "activities" involving the mere exercise of free speech such as "incitement."
The next day, on July 1, residents who displayed "Liberate Hong Kong, Revolution of Our Times" or "Hong Kong independence" signs were arrested for violating the new law. Days later, even demonstrators who held up blank placards to contest the banning of protest slogans were detained for unlawful assembly. The next couple of months saw a series of high-profile arrests of figures such as Apple Daily's Jimmy Lai and activists Agnes Chow, Wilson Li, and Andy Li.
The national security law—or as it should be called, the regime security law—effectively abrogated the "one country, two systems" model under which Hong Kong was reverted to Chinese rule in 1997. The 1984 Sino-British Joint Declaration and the 1990 Hong Kong Basic Law provide for "Hong Kong people ruling Hong Kong" under a "high degree of autonomy" for 50 years until 2047. This model is experiencing early death because it suffered from a bad birth. For Hong Kong's people and the world, the promise of "two systems" was meant to create a firewall shielding the city's preexisting rights and freedoms from the one-party dictatorship in mainland China. Beijing, however, viewed the two systems in terms of capitalism in Hong Kong versus socialism across the border. Its ideal scenario for Hong Kong was capitalism without freedom.
As such, Beijing's erosion of Hong Kong's freedoms did not just happen over the last two years but has been a long time coming.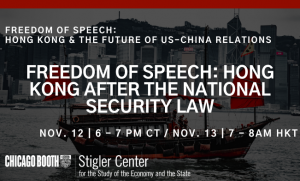 Already in 2002, only five years after the handover, Beijing wanted Hong Kong to pass a national security law. While Article 23 of the Basic Law requires the local legislature to enact such a law "on its own," the legal profession took the lead in contesting that the proposed bill did not provide for sufficient safeguards as required by the International Covenant on Civil and Political Rights (ICCPR). On July 1, 2003, half a million people protested and the bill was shelved.
Beijing did not take this setback lightly. In addition to the Hong Kong and Macao Affairs Office (HKMAO), Beijing formed a Central Coordination Group for Hong Kong and Macau Affairs to oversee the two cities from the capital. It also created a structure of what Russell Hsiao calls "two administrations" in Hong Kong. The "first administration" is headed by the Chief Executive, who is technically selected by a 1200-member election committee, but is, in fact, handpicked by Beijing. The "second administration" is Beijing's Liaison Office in Hong Kong established in 2000. The former director Zhimin Wang famously commented that, "it is good that Central (the Hong Kong government) and Western Districts (the Liaison Office) work together."
Beijing followed with concrete steps to undermine the city's pillars of freedom: the rule of law, an independent judiciary, a neutral civil service, an impartial police force, an unfettered free press, and professional legal, educational, financial, medical, and other sectors. The key to undermining them is to wield the power of appointments, promotions, and dismissals in filling the justice department, the courts, the police, the legislature, the district councils, university councils, and more. While loyalists have been offered carrots, critics have been handed the sticks.
The 2014 Umbrella Movement called for "genuine universal suffrage" for the Chief Executive and the Legislative Council to no avail. In the aftermath, Beijing dramatically stepped up attacks on the city's freedom. Zuoer Chen, a former HKMAO deputy director, declared a campaign against the suspected forces behind the protests: the Legislative Council, universities and schools, mass media, and the courts. In the wake of the national security law in 2020, Chief Executive Carrie Lam and other pro-regime figures have intensified attempts to rectify the courts, the schools, the press, and the civil service.
The authorities have long maintained a tight rein over the Hong Kong legislature to keep opposition voices in perpetual minority. After shutting down the Umbrella Movement, Beijing would take it a step further: Ahead of the Legislative Council elections in 2016, the authorities barred an independence advocate Edward Leung from running. Two independence-leaning candidates, Wai-ching Yau and Chung-hang Leung, were elected and displayed a "Hong Kong is not China" flag during their swearing-in ceremony in October 2016. Then Chief Executive Chun-ying Leung asked the court to disqualify them. But before the court could even issue its verdict, Beijing handed down a binding interpretation of the Basic Law in November that was then used to retroactively disqualify any legislator-elect who made revisions or additions to the formal oath. The court fully complied and expelled the duo from the Legislative Council. The Department of Justice sought to disqualify four more legislators who never supported independence but played with the language in their oath of office: Democracy Groundwork's Siu-lai Lau, Demosisto's Nathan Law, the League of Social Democrats' Kwok-hung Leung, and architectural sector lawmaker Edward Yiu.
The legislature has been further strangled in 2020. Elections were originally scheduled for September 6. In late July, twelve pro-democracy candidates were disqualified, and then the elections were postponed for at least a year citing Covid-19. Opposition legislators have been arrested for scuffles in the chamber and may even be disqualified for filibustering.
The authorities have tightened control over universities and schools, considered hotbeds of dissent. The Chief Executive has stacked university councils with pro-regime appointees who have duly appointed loyalist candidates to top positions, including mainland scholars as vice presidents. The University of Hong Kong is particularly singled out because Benny Tai, a law professor, is the architect of not only the Umbrella Movement but also of electoral coordination for the pro-democracy camp. In July 2020, the university's governing council formally fired professor Tai for criminal convictions related to the 2014 protest, against the faculty senate's recommendation. In primary and secondary schools, political slogans are now banned. One teacher has been permanently decertified for a free speech lesson. Other teachers have been investigated and fired for pro-democracy views.
To rein in the mass media, pro-Beijing businessmen have bought up TV stations and newspapers, including Jack Ma's acquisition of the English-language South China Morning Post in 2016. Regime forces also put pressure on businesses to starve the pro-democracy Apple Daily of advertising revenues. In 2020, officials have imposed direct pressure on the publicly-funded Radio Television Hong Kong by launching a probe into an outspoken reporter and dropping a satire program. Another journalist has been arrested for "obstruction"—only because she refused to stop filming police arrests when ordered. HKMAO deputy director Xiaoming Zhang threatened that negative reporting of China news could count as subversion under the national security law.
The courts have become a heated battleground since the Umbrella Movement. Central officials and local pro-regime politicians repeatedly complained that judges released the majority of protest-related defendants or gave very lenient sentences to the convicted. Chen remarked in a closed meeting in November 2016 that Umbrella leaders were not dealt with harshly enough. In August 2017 and again in April 2019, the courts handed down jail terms from six to 16 months to the movement's prominent leaders. In 2019-20, judges meted out four years for hurling umbrellas and other objects at the police, three years for possessing a toy gun, two years for doxxing police officers.
The national security law takes a giant leap at emasculating judicial independence and the rule of law. Beijing's answer to Hong Kong's objection to the extradition law is to bring central security officers and agents to overrun the city's hitherto autonomous judiciary and criminal justice. The law intrudes on judges' independence by baring judicial review on matters of national security. It empowers the Chief Executive to select a limited panel of judges from among current and retired judges to try national security cases. Selected judges are removed if they "make any statement or behave in any manner endangering national security." The accused may be denied bail "unless the judge has sufficient grounds for believing that the criminal suspect or defendant will not continue to commit acts endangering national security." They may also be denied a jury by the prosecution. They face certain imprisonment from three years to life and even rendition to the mainland.
As for the newly targeted civil servants, 42 have been suspended for protest-related arrests even if they have not been formally charged or convicted. New hires are required to pledge loyalty to the government. The former cardinal principle of impartiality has given way to political loyalty.
The 2020 national security law ultimately aims to eradicate Hong Kong's remaining strands of freedom. Although the law promises to protect "the freedoms of speech, of the press, of publication, of association, of assembly, of procession, and of demonstration" in accordance with international conventions, anyone who tries to exercise such freedoms is liable to criminal charges. The riot police's brand-new warning flag for July 1 is illustrative: "If you are displaying flags or banners/chanting slogans or conducting yourself with an intent, such as secession or subversion, which may constitute offences under the HKSAR national security law, you may be arrested and prosecuted." That same day, 370 people were arrested and 10 were charged under the new law, some for simply possessing protest materials in backpacks. More arrests have followed since.
The national security law silences dissent not just within Hong Kong, but around the world. Article 38 claims extraterritorial jurisdiction. A Hong Kong-born American citizen, Samuel Chu of the Hong Kong Democracy Council, is under an arrest warrant. American universities have scrambled to develop best practices to avoid self-censorship without jeopardizing the safety of students taking online courses from Hong Kong and mainland China.
It is phenomenal how far and how fast Hong Kong has lost its freedoms. However, Hong Kongers inside and outside have continued the struggle. As a long-standing protest song "Freedom Flowers" suggests, freedoms are like wild flowers that always come back, even after horrendous storms and bitter winters. In this highly unequal struggle, the world's freedom champions could help by making Beijing understand that its desired model of "capitalism without freedom" would not work: If Beijing kills the city's freedoms, it should not be able to reap benefits from its capitalism.