Corruption, lobbying, corporate malfeasance, and frauds: a weekly unconventional selection of must-read articles by investigative journalist Bethany McLean.
---
In the middle of a pandemic, it's easy to forget that there are other things that matter—indeed, other things that have cost more lives while making people even bigger fortunes. Well, wait, we haven't seen the vaccine profits yet. But until then: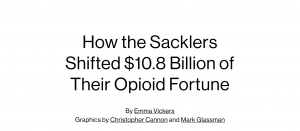 I keep talking about how the pandemic is going to remake our economy. You need a subscription to read this article, but really, all you need to know is in the headline. H/T @ritholtz
Between the pandemic, the California fires, and early winter here in Chicago (kidding, kind of), there's more than enough bad news to go around. I don't know, maybe this doesn't qualify as good news. But isn't anything that might stop Amazon from taking over the world good news?