Corruption, lobbying, corporate malfeasance, and frauds: a weekly unconventional selection of must-read articles by investigative journalist Bethany McLean.

---
At least some things stay in the same. Even in the middle of a life-changing pandemic, Wall Street is still finding ways to separate people from what little money they have. I suppose it's reassuring on some level…well, no. It's just horrifying.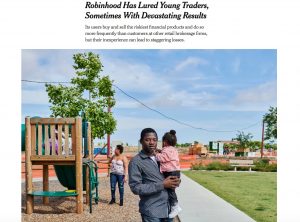 Have you ever wondered how it is that we all became addicted to debt? Here's at least a part of the explanation.


I suppose this story about the rise and not-quite-fall-but flounder of Quibi could be disheartening! But in a way, it's sort of encouraging that smart people can throw "ungodly amounts of money" at creating content we're all supposed to watch, only to find that no one is watching it. As long as humans remain somewhat unpredictable, the robots can't win. H/T @Barry Ritholtz