Two of the most well-known University of Chicago economists launched a website to collect examples of regulations that are limiting the United States' reaction to the health emergency. "Fighting the coronavirus is hard enough. Government regulations shouldn't make it any harder. But that's exactly what's happening," they argue.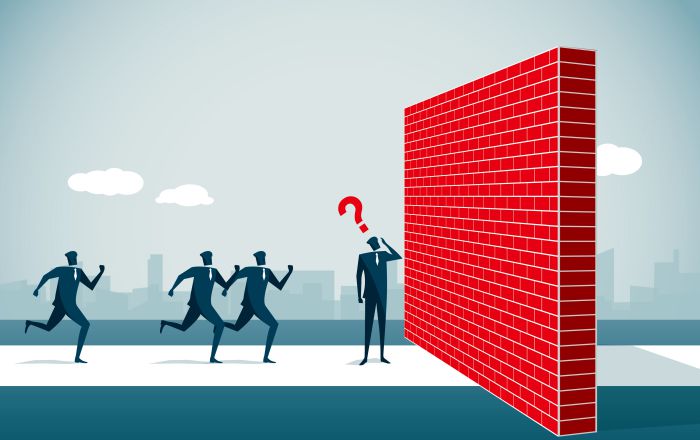 Governments all over the world are using trillions of dollars of taxpayers' money to mitigate the economic consequences of the coronavirus outbreak. This usually implies a bigger role for the government in the economy, as a creditor, shareholder, or simply as a regulator. Such an outcome is inevitable, but adding more red tape and regulation to previous rules and paperwork could prevent the economy to rebound,  argue University of Chicago economists Sendhil Mullainathan and Richard H. Thaler. 
One of the leading experts on artificial intelligence and a Nobel laureate famous for his behavioral economics studies, Mullainathan and Thaler wrote in a New York Times op-ed that
"Fighting the coronavirus is hard enough. Government regulations shouldn't make it any harder. But that's exactly what's happening.

We have identified five kinds of regulations that we believe are hindering us in what amounts to a war of survival. They should be paused for now, and some might be usefully eliminated forever."
The two economists, both affiliated to the University of Chicago Booth School of Business, advocate for a suspension of regulations that can jeopardize policy response to the crisis, such as regulations on privacy and patents. In these extraordinary times, we need social distancing and medical innovation more than we need privacy or long-term rewards for pharmaceutical companies, they argue. 
Mullainathan and Thaler suggest that governments should "open up sites to request comments not on new regulations, but on existing ones that are limiting our ability to fight the virus. Let people on the front lines report the regulations that are hindering them". 
To speed up this process, they launched a website and a project to collect stories and examples of regulations that are limiting US response to the health emergency.
The website is pauseregulations.com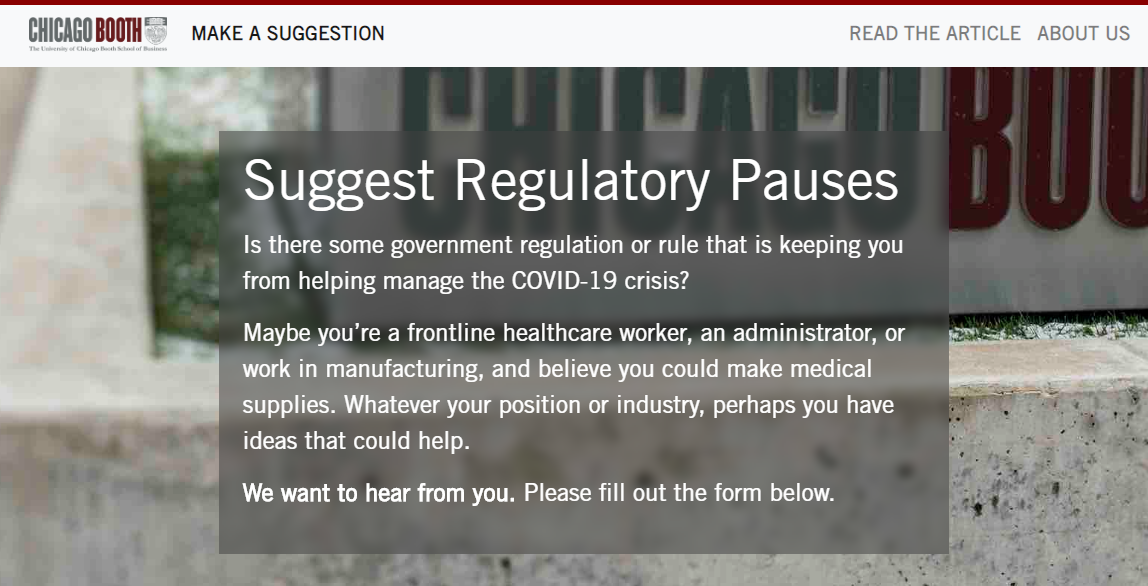 After a few days, PauseRegulations has already collected several stories to support Mullainathan's and Thaler's arguments. An entrepreneur from Huntsville, Alabama, for example, complains that tests for Covid-19 cannot be done by anyone unless sanctioned or approved by the Federal Drug Administration, the main drug regulator: 
"What we must realize is that today the technique for detection is a variant of the polymerase chain reaction (PCR) and many many academic and research labs can do such PCR – once they design primers, get the primers they can run hundreds of thousands of tests in a day!

We should unleash those that want to do such (because it will take special personnel and special equipment – but they exist) – let us allow people to run tests and caution about the results – if positive, quarantine and test again – if negative careful knowing it may be off."
A group of health care professionals from California, New York City, Ilinois, Tennessee, Florida, and Texas wrote: 
"The home care industry cares for tens of millions of our most vulnerable citizens in their homes every day. We provide assistance with activities of daily living and instrumental activities of daily living, which keeps our clients in their homes and in the lowest risk setting. Our professional Caregivers are able and willing to continue to provide care to clients who test positive for COVID-19 or have been exposed to the virus.  

But we need your help so that home care companies do not face unreasonable liability for providing such care. To that end, we ask for your support in getting a bill through congress like the Public Readiness and Emergency Preparedness Act (PREP Act), 42 USC 247d-6d, that will insulate providers like us from claims related to the care we will be providing in these extraordinary times." 
ProMarket is dedicated to discussing how competition tends to be subverted by special interests. The posts represent the opinions of their writers, not necessarily those of the University of Chicago, the Booth School of Business, or its faculty. For more information, please visit ProMarket Blog Policy.