Check out the live coverage by the ProMarket team of the invitation-only 2018 Antitrust and Competition: Digital Platforms and Concentration conference, hosted by Chicago Booth's Stigler Center in downtown Chicago. Join our livestream, follow our live tweets below, and share your thoughts using the hashtag #StiglerConcentration!
T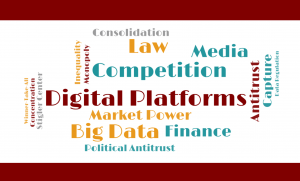 he economic and societal role of the handful of large companies known as "digital platforms" has grown dramatically in the last decade. Google, Amazon, and Facebook are not only transforming communication, media, and retail but have the potential to transform many other industries. While they invest billions in research and development and propel important innovation, they also raise many policy questions with regard to their dominance in many markets, the vast consumer data they collect and own, and their influence on the markets for news, information, and ideas.
The ProMarket writers are at the Chicago Booth Gleacher Center for the Stigler Center's 2nd Annual Antitrust and Concentration conference on Digital Platforms and Concentration.
Join the livestream here for access to the full programming of this invitation-only event featuring approximately 50 economists, law scholars, intellectuals, venture capitalists, and business people for two days of discussion. The keynote speakers will be Makan Delrahim, assistant attorney general of the Department of Justice's Antitrust Division, Alvin Roth, the 2012 Nobel laureate in economics, and Jean Tirole, the 2014 Nobel laureate in economics.
Check back here for our rolling coverage and share your thoughts with us on social media using the hashtag #StiglerConcentration.
Also check out our ebook with advance analysis from ten conference presenters: