The 12-week program, which will take place in Chicago Booth's Hyde Park Campus, offers a transformative learning experience for working journalists seeking to deepen their understanding of political economy.
One of the missions of the Stigler Center is to enrich the public debate on matters related to the interaction between politics and the economy. By gathering and disseminating information on the behavior of different players in the market and uncovering potential wrongdoings, we believe, the media plays a crucial role in the effort to create a better, competitive market system.
For this reason, the Stigler Center launched its program for Journalists in Residence in March. Aiming to shape the next generation of leaders in business reporting, the Journalists in Residence Program provides a transformative learning experience for working journalists from around the world who wish to deepen their understanding of the political economy. The first cohort of Stigler Journalists in Residence, who graduated from the program in June, consisted of eight journalists from the U.S., China, Italy, India, and Brazil.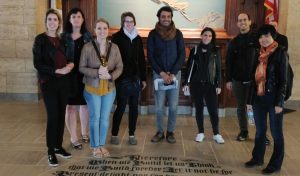 Following the success of our inaugural cohort, the Stigler Center will begin taking applications for spring 2018. Applications will open on August 1.
The program will take place over approximately 12 weeks at our Hyde Park campus, during which selected participants will audit classes, participate in events, collaborate with peers, and socialize with the university's greatest scholars. Participants will choose their own classes at Chicago Booth. Examples of classes include The Firm and the Non-Market Environment with professor Marianne Bertrand, Crony Capitalism with professor Luigi Zingales, and Understanding Central Banks with professor Anil Kashyap.
The second year of the Journalists in Residence program was launched this week with a special info session at the Chicago Booth London Campus, where Stigler Center Director Luigi Zingales (also one of the editors of this blog) and Alexandra Fattal, the Italy business and finance correspondent at The Economist and 2017 Stigler Center Journalists in Residence fellow, welcomed potential applicants and answered their questions.
The program is open to journalists from around the world, working in all forms of media. More details here.