David Plouffe,  board member and Chief Advisor at Uber, is coming to give a talk at the Stigler Center.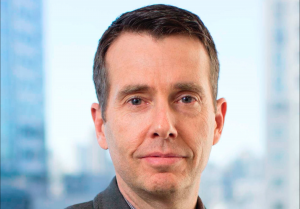 Within seven years, Uber has managed to turn itself into a global brand, become one of the most successful start-ups to ever come out of Silicon Valley, and disrupt the transportation industry. The ride-sharing app, the poster child for the sharing economy, began in 2009 as a premium car service in San Francisco. Despite some regulatory challenges in the US and abroad, it is now valued at more than $60 billion and operates in hundreds of cities worldwide.
What made Uber so successful, and what can its success teach us about future demand for flexible work? Next week, Uber's chief advisor and board member, David Plouffe will give an exclusive presentation at the Stigler Center and join us for a fireside chat on the changing global economy and the challenges posed by wage stagnation.
Before joining Uber in 2014, Plouffe worked as a political strategist, managing Barack Obama's transformative presidential campaign in 2008 and his successful reelection campaign in 2012. Plouffe continued to advise Obama after he entered the White House, and was appointed Senior Advisor to the President in 2011. He is widely referred to as the "architect" of Obama's two presidential campaign victories, and wrote the New York Times best seller The Audacity to Win: The Inside Story and Lessons of Barack Obama's Historic Victory  based on this experience.
Plouffe's talk will take place on April 19th, at 5:00 PM.