A Stigler Center panel debate examines the impact of activist shareholders and the role of dissenting board members.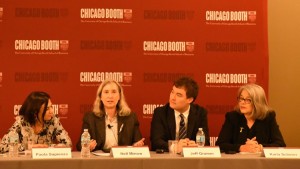 Corporate governance has seen some substantial reforms in the past decade. With the recent surge of shareholder activism, and the rising demand for more accountability from boards, the prospect of more reforms seems increasingly likely, as investors and managers alike seek answers to questions such as: Can shareholder activists play a positive role in corporate governance? What is the role of dissenting directors, and should board members strive for less unanimity in decision-making? Can directors engage with shareholders and activists, and if so, what are the proper rules of engagement? Do board members who are women get treated differently than their male counterparts, and if so, how can this be fixed?
These questions were the focus of a panel hosted this week by the Stigler Center at the University of Chicago Booth School of Business. The panel featured Karla Scherer, chairman of the Karla Scherer Foundation, corporate governance expert Nell Minow, finance professor Paola Sapienza, and hedge fund manager and author Jeff Gramm.
Each member of the panel drew from their own personal and professional experience to highlight some of the most pressing issues related to corporate governance and shareholders' rights, from the dependency of boards on CEOs to the difficulties of minority board members. Karla Scherer, for instance, became a shareholders' rights advocate in the 1980s, when she led a successful proxy fight to take control of the company her father founded from her then-husband, who was the company's CEO. Her personal story served as a springboard for the panel's participants to discuss a variety of issues.
Scherer is the daughter of Robert Pauli Scherer, who invented the revolutionary machine that first produced soft elastic gelatin capsules. At the time of her proxy battle, Scherer was the largest stockholder in her father's firm, R.P. Scherer Corp. A spate of ill-advised acquisitions had led the company away from its successful core business, and made it a target for a hostile takeover attempt. When she raised concerns about the company's direction, the all-male board supported the CEO, her husband. Scherer eventually managed to gain the support of the other shareholders, push out the CEO (at the cost of her marriage), and sell the company for a profit.
Asked what governance problems she sees in American corporations today, Scherer pointed to the issue of CEO compensation. "I vote in probably 75-80 proxies a year, and the thing that jumps out is the exorbitant CEO pay. This has waxed and waned over the years, because as soon as the press jumps on this, the CEOs retrench and they start to act like good boys and girls, and don't take so much the next year. But then it starts to creep up again. In 2014, Leslie Moonves, the head of CBS, took down $57.2 million for shareholder return at 12.4 percent negative. Robert Iger at Disney took down $46.5 million—if you think that's bad, his predecessor Michael Eisner took down $235 million from 1991 to 1995—and lastly, Jeff Immelt at GE took down $37.3 million for shareholder return at 6.7 percent negative."
"The directors have been at fault just as disgustingly as the CEOs have been," she added. "Today the mean average director takes $250,000. If they're chairing a committee, it goes above that. They get perks like health insurance, of course stock options are built into that, and they have use of the company airplane." 
The second issue that Scherer raised was that of directors who serve on one another's boards. "It's not just the men, there are plenty of female CEOs who are doing the same thing. It's an old boy's network. Irving Kristol said some years ago, and I quote: 'it is only a slight exaggeration to say that CEOs negotiate with themselves. You cannot have a separation of power within corporate leadership any more than you can have separation of powers within the executive branch of government".
Jeff Gramm is a hedge fund manager and the author of Dear Chairman: Boardroom Battles and the Rise of Shareholder Activism (HarperCollins, 2016), a book that traces a century of boardroom struggles that led to the rise of shareholder activism. Referring to Scherer's story as an example of issues that are still relevant to corporate governance 28 years later, he said: "the board members [at R.P. Scherer Corp] were all extremely accomplished. If you looked at their bios, you'd be very impressed. They were all luminaries of the Detroit business community, but they were also all there to ensure the future employment of their friend, the CEO. When Karla began to ask the hard questions, things devolved and the board on the whole supported the CEO. Ultimately she and shareholders won the vote and sold the company for a very big profit, and the company continued to perform well as a private company, which highlights not just the poor job the previous team had been doing, but also the conundrum of corporate governance: if it were so easy to generate a bonanza outcome for shareholders by taking this thing private and putting a new management team, why were the shareholders deprived those profits? These are the kind of questions we should talk about."
Nell Minow is a longtime shareholder advocate and the vice chair of ValueEdge Advisors. Before that, she co-founded the research firm The Corporate Library (which later became GMI), served as general counsel and later as president of the governance advisory firm ISS, and was also the Principal of LENS, an investment firm that used shareholder activist tactics to increase the value of firms. Fortune Magazine once dubbed her "the CEO killer."
Minow also used Scherer's story as a point of departure. "Karla did not really control her own stock. There was a trustee. And the trustee was a banker, and also a friend and golf-buddy of the CEO, and he served on the board of directors. When Karla went to the trustee with her analysis of the company, he basically told her to not worry her 'pretty little head' about it. To me, that's really the essential conundrum of governance and activism: the whole purpose of our governance system is that we set it up to deal with what you in the business school call agency cost and we in the law school call conflict of interest. It's human nature to want to protect yourself, entrench yourself, deal with yourself, pay yourself a lot of money. That's why we have to have a system of checks of balances, to legitimate this process so people would feel confident putting their money into it."
"Corporate governance is making sure that the right questions get asked, and that decisions are made by the group with the best access to information and fewest conflicts of interest. Unfortunately, there have been many, many, many efforts to erode that over the years, and the strong robust fiduciary obligation that directors have to shareholders has been tremendously diminished, and the strong robust fiduciary obligation that people like the trustee at Karla's firm had to their beneficiaries has been terribly eroded, and that makes the corporations and the corporate system very vulnerable."
"Question everything"
Sapienza, the Donald C. Clark/HSBC Chair in Consumer Finance Professor at the Kellogg School of Management, has been featured in Thomson Reuter's list of most influential scientific minds in 2014 and 2015. Her academic work has touched on a wide variety of topics, from corporate governance to behavioral finance. She has been serving as an independent board member of the Italian insurance company Assicurazioni Generali since 2010. 
In her talk, Sapienza shared her experiences as a dissenting director in a minority position. "The first time I had a clear definition of who I was on the board was during a very contentious debate with a partner in a British consulting firm who was brought in. At one point I kept raising my hand, wanting to talk. Everyone was rolling their eyes, one of the partners asked 'who is she?' and another partner said: 'she's a dissenting director.' That really resonated with me, so I started wondering who is a dissenting director, and what a dissenting director is supposed to do. In British corporate governance there is a definition of dissenting director as a director who is brought to the board by activists to try and change things."
Sapienza compared her position as a dissenting director to a scene in Luchino Visconti's 1963 film The Leopard. "At one point there is a Grand Ball in the movie. There is this woman, the daughter of a peasant who has been elected to high society. She walks in, and she's clearly not been raised with the same manner of nobility. You can see the way she is looked down [at] by everyone, she's really the rude, uneducated peasant. So every time a director dissents on the board, that is the look that you get."
The main lesson she learned in six years on the board of Generali, she said, was that directors should raise questions and not shy away from disagreement. "The majority of the decisions in boards are reached in unanimity, and not just in Italy. I can't tell you how many times I voted against a management decision and had other board members coming to me later and saying 'I was in disagreement too, but I didn't to vote against it, because that would be untoward.'"
Despite the strong push for unanimity in boards, she continued, "the majority of board decisions are not revealed to the shareholders. As a shareholder, you don't know that I voted against management compensation. I don't get why we shouldn't keep the directors accountable for what they are voting for, and in reelection give the shareholders the possibility of saying 'I want reappoint this person and not that person, because I agree [with the way he voted]', as we do with politicians. I actually looked at corporate governance around the world and found that the only place in the world where decisions are revealed is in China, where all decisions are unanimous anyway."
Another dilemma she encountered as a board member, said Sapienza, is the issue of engagement with shareholders and management: "to what extent the director, in this particular case dissenting director, can actually engage with shareholders and management, and what are the rules of engagement? Of course I can't reach shareholders independently and relay information to them, but my motivation has always been 'please lobby me. I want to be lobbied. I want to hear what you want.'"
Being both a woman and a dissenting director, she explained, presented a unique set of problems. "As soon as I arrived on the board, I was told by the chairman that I was highly discouraged from having any direct relations with the management, because if every board member had a direct relationship with the management that would be problematic. Pretty soon I realized that all my colleagues were engaged in it, and that this was a way to keep me outside what was happening, so I started engaging. I was the only woman on the board for three years, and there were all these innuendos: 'are you having a relationship with all these people?' They would ask me do you know the wife, assuming that the only reason I was engaging with these people was because I was having a personal relationship with them of some type."
"The lesson for me was that you have to question everything. In this corporate governance structure that we have created, there are many practices that make absolutely no sense. I had a great chance myself, and I think it was because I was so much of an outsider in that board. The chairman used to introduce me to the other board members: 'yes, she's Italian, but she hasn't lived in this country for 18 years and doesn't know how things are.' This gave me liberty to say 'okay, I am the crazy person in the board, so I'm going to ask why are you doing things this way.' By doing that, I tested the limit and realized that sometimes you can overturn some of the practices, especially if you work harder than anyone else."
"Directors always think the CEO is their boss"
Asked why boards today include incompetent people and what role recruiting firms play in this, Minow said: "search firms do what they're told. They say 'we want a consensus-builder.' Then you have a room full of 11 consensus builders and one visionary, dynamic guy who controls the information and their term and compensation on the board. Generally speaking, people of incredible achievement walk into a boardroom and lose half of their IQ points and all of their courage. I don't understand why that is, except to say that they always think the CEO is their boss, and act like an operating division of the company."
"The thing that kept me interested in corporate governance for the past 30 years," Minow added, "is that I feel like an anthropologist in the boardroom, because that's the only way to look at it. Lawyers and businesspeople and economists can look at it, but to try to figure out what went wrong you really need anthropologists."
Responding to the same question, Gramm highlighted another issue: "People don't even understand the role of the board, to a shocking degree," he said. "Often when you join a board, they have a policy regarding engagement with the shareholders that says you can't engage with shareholders. There might not be an explicit policy regarding talking to the CEO, but it's kind of implied that there are some gatekeepers, and that if you begin to talk with the CFO on the side, some people will view you with suspicion. Of course, those are the two key roles of a director. The idea that you can have a policy [like this] and that it will be consistent for decades is completely counter to the whole point of what a director is."
Gramm added that these harsh rules of engagement are beginning to change. "I do think these policies are beginning to come off. We're beginning to see the big institutions reject those policies. They're beginning to engage individually with directors now. So there is a little bit of a movement."
Douglas Skinner, Deputy Dean at Chicago Booth, asked the panel participants whether certain activists could be deemed abusive, like activists who take short-positions on stocks: "How do we achieve the right balance between an appropriate amount of discipline of activism and on the other side, the issues that you talked about, of management infringement?" 
"The question always comes back to who makes the decisions; who has the best access to information and fewest conflicts of interest," said Minow. "Shareholders have shown themselves to be very good at discerning the difference between abusive activists, those who take greenmail, those who strip companies, and those who are not. And if they aren't, hey, that's the market. There's less of a proportion of bad shareholders than bad managers in my opinion, but that is not my call, that's the shareholders' call, let's let them decide. Institutional shareholders are large, sophisticated investors that know what they're doing. Let's let them decide."
"We can always find the example of an activist who is going in the other direction, but the majority of the shareholders are really there for value in the long-term," said Sapienza. "Sometimes I feel that bringing up the people that are speculating, this kind of worst-case scenario, is a bit of a tactic."
Replying to the same question, Gramm suggested that few instances of harmful activism might be tolerable, given the overall benefits of stronger accountability. "You see these activists in the headlines, and there's a perception that they have a lot of power. But ultimately, the fact that there are tons of them now is this increased accountability in the system. We should be willing to tolerate a few cases of bad activism as a trade-off for having so much accountability in the system."
"I have read a statistic that 70 percent of corporate acquisitions end up not adding value and that has certainly been my observation," added Minow. "If that is true, then it seems to me that is a bigger risk for the shareholders than making a bad bet on a couple of activists. I think it's just a big part of the gorgeous correction of market forces, which I learned about right here at the University of Chicago."